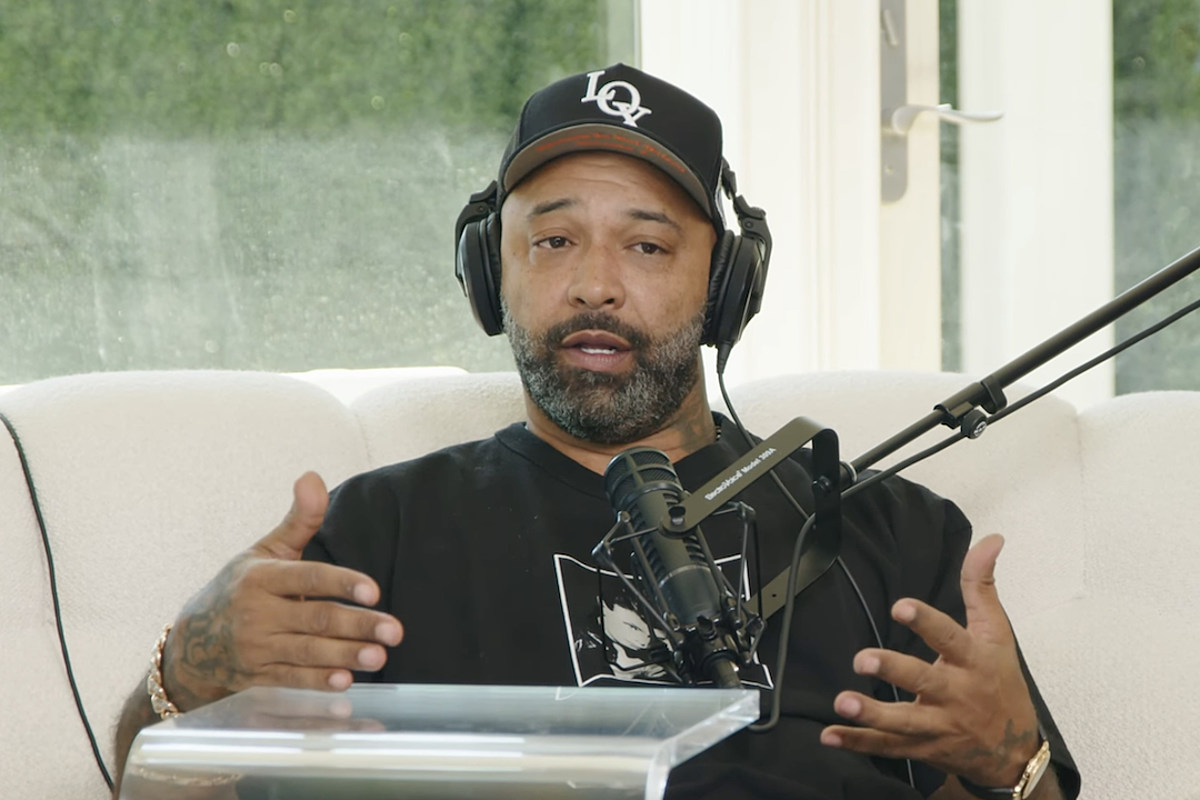 It looks like Joe Budden had a brief altercation inside a club over the weekend. The rapper-turned-podcaster has acknowledged that he did get punched in the face but said it wasn't a big deal.
Joe Budden Addresses Rumors That He Got Jumped in a Club
Over the weekend, Joe Budden started trending on X, formerly known as Twitter, after rumors started circulating that he was jumped in the club. But Joe jumped on Instagram Live with QueenzFlip, who's a co-host on The Joe Budden Podcast, to clear the air about the rumored altercation.
In the video, which you can watch below, Joe explained that he didn't get jumped but rather he was sucker-punched by someone while partying reportedly at Dream Gentlemen's nightclub in New York.
"Never believe the internet rumors," said Joe. "N***a cocked back and sock me one good time—Bow!"
"But that's all he's going to get," he added. "I keep telling y'all I eat a punch well. Now we got to get it on. Now we got to go."
QueenzFlip went on to explain that Joe got snuck and when he tried to respond there was a struggle but the floor was wet and slippery so no additional punches were thrown.
Judging by the video below, Joe seems to be in good shape and not severely injured.
So Why Did Joe Budden Get Attacked In a Club?
While on IG Live, Joe Budden told QueenzFlip that he will explain what happened to him at the club on Monday's (Nov. 6) episode of The Joe Budden Podcast.
Nevertheless, many fans are speculating about why Joe was attacked at the club. Some believe his remarks about Cesar Pina's brother, Luchie Rentals, on his podcast may have been the cause.
For those who don't know, Joe had a run-in with Rentals that was captured on video and went viral. You can watch the clip below.
Last month, Cesar Pina was arrested in connection with an investigation into his house-flipping business with DJ Envy, who is Joe Budden's friend. According to Pina, Envy is innocent of any wrongdoing.
Joe has been very vocal about Cesar's involvement in the alleged fraudulent house-flipping scheme on his podcast. Many fans are speculating that Pina's brother is not happy about Joe's criticisms about his brother and therefore is allegedly harassing him.
Either way, Joe Budden has since acknowledged that he has to move a little differently now that it appears to be a target on his back.
Watch Joe Budden addressed the rumors about him getting jumped in the club below.
Watch Joe Budden Explain What Happened to Him at the Club With QueenzFlip
See Older Rappers' Complaints About Hip-Hop and Where It's Headed
These legendary rappers aren't a fan of where hip-hop is heading.