Summer. This was the season chosen by the k-pop girl group Cignature to tell the story of girls experiencing all the sensations of summer, such as love stories, desires and more. Cignature's fourth mini-album, 'Us in the Summer' was released on August 29th and features four tracks that contain short stories about each person's inner self.
—
—
The group debuted in February 2020 and since then, the seven members Jeewon, Semi, Chaesol, Seline, Chloe, Dohee and Belle — the latter is not present at the comeback because she is taking part in the SBS audition program 'Universe Ticket' — has delivered harmony and talent in their songs.
"This album contains the story of girls who are confused because everything is new, amid their youth, and full of energy. This album cutely captures small and simple stories, including trivial love stories, breakups as your heart desires, and stories about one's inner self", told Semi about the concept behind 'Us In The Summer'.
Asked what it's like to be back with a new project, they were happy and excited. "We feel happy and excited to be able to share music that goes well with summer days but at the same time, there is a sense of responsibility. With this album, we hope to promote in healthy conditions, physically and mentally, and share good energy and love with our beloved SignFan. We're happy to see our fans often and looking forward to this promotion being full of precious memories," told Chaesol.
The group's last comeback was in January, with the mini-album 'My Little Aurora'. Seven months later, they returned with another album and a desire to meet their fans this year, called 'SignFan'. "We wanted to meet many of our SignFan in 2023, and we're happy to be able to meet them often. We're looking forward to the memories we will build through this album. Please continue showing us your love and support! Thank you," said Seline.
—
—
The proudest moment during the recording of the album, according to Semi, happened while recording 'Sorry So Sorry'. "I felt a lot of pressure because I was in charge of the song's intro part, but after recording, the director praised me by saying that the intro part came out well. I felt like I had grown a lot and I was proud".
While recording "Smooth Sailing", the album's lead track, Dohee said that she had a lot of fun in one part of the song. "There is a part in the lyrics of 'Smooth Sailing' that says, 'Like it's about to touch or not, give me more'. This part was supposed to sound like you're shouting, and the director encouraged us in an entertaining way by saying 'Fire a shout all over the place!'".
With harmony and charisma, Cignature stands out for the individuality of each member, who together become unique. "I think the reason why cignature can present different charms is that each member's individuality is recognised and respected, so each member's charms naturally fit into the team therefore creating our unique specialness. I also think our teamwork is strengthened by acknowledging each other's differences, being considerate, and guiding each other to shine," told Jeewon.
The fact that the group is like a family also makes it special, according to Chloe. "I love having them by my side because they are such good friends and our synergy doubles when our individual strengths are combined. Now, we can tell each other's thoughts just by looking at each other's eyes. We can show better performance on stage thanks to the members who fill in each other's weaknesses and guide one another during the practice".
Thinking ahead, one of the girls' goals is to be mentally healthy for the album promotions and, above all, to stay together and evolve together. "We want to become artists that our fans can be proud of because they are even happier than ourselves about us achieving good results," said Chloe.
Being in a group has many positive aspects, the main one being the family you gain. "We all now become like family who know each other well, so we can quickly resolve negative emotions such as anger or sadness," told Seline.
"As a group, we make up for each other's shortcomings and highlight each other's strengths, which I think of as a positive advantage of being a group," said Chloe.
—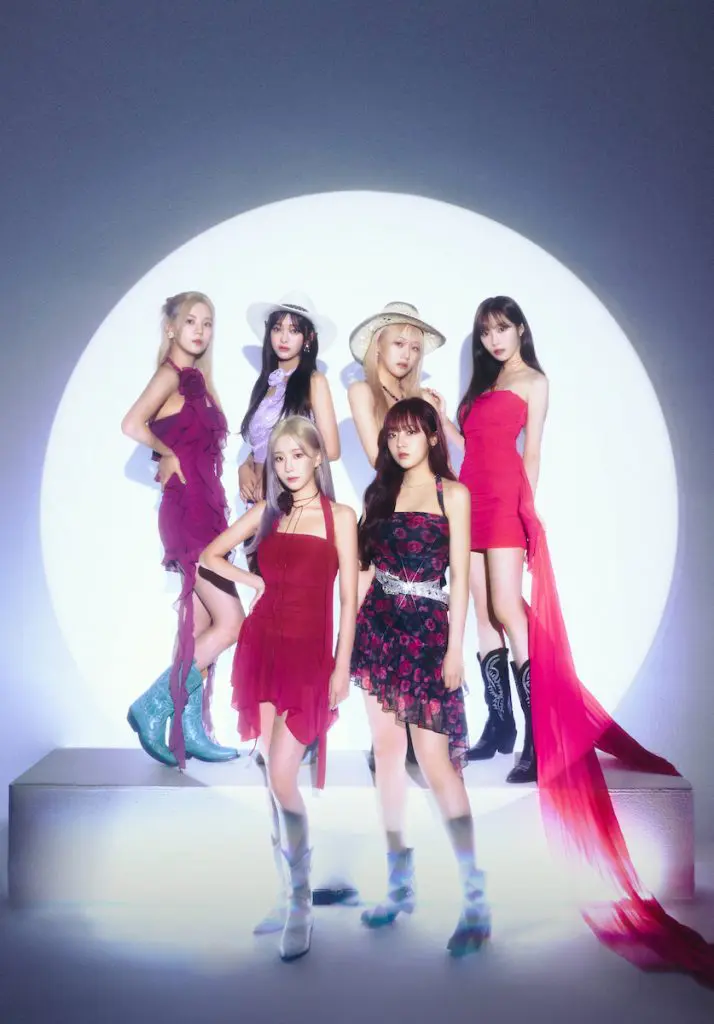 —
Of the various stories in the album, they told me their favorites. "I certainly love the title song, but among the various stories carried through songs, I think the first track, 'Mess With My Mind' is interesting. It blends a girl's confused and pure emotions. It also captures the feeling of waiting for that someone I met last night and fell in love with on top of a smooth and easy-to-listen-to melody," told Chaesol.
For Jeewon, her favorite story is in the song 'Smooth Sailing'. "I liked our story in the music video the most. I thought that the story of seeing a music festival and preparing for the stages resembles us a lot, and the hidden stories in between scenes are entertaining. I especially liked it because it was enjoyable not only to the ears but also to the eyes".
Talking about the songs on the album, Chaesol chose 'Mess With My Mind' as her favorite. "It honestly wasn't my favorite song when I first heard it, but the more I listened to it, the more lingered in my memory. Also, I think the lyrics clearly reveal the girl's confused and pure heart. It's a good song to listen to while driving on a summer night or taking a walk at night".
"My favorite song is 'Smooth Sailing'. The lyrics are so pretty, and the melody is so addictive that when I first heard the song, I kept humming 'Smooth Sailing'," said Dohee.
For Semi, the emotional 'Little Me' is her favorite. "Its lyrics are very good, and I feel emotionally overwhelmed when I listen to the last part. I like listening to it before going to bed after a long day because it makes me feel like all the fatigue from the day has melted away".
For this comeback, Cignature worked with the great producers Ryan Jhun and KZ, who advised them and made them comfortable with their interpretation of the songs.
The girls also said they were excited about collaborating with other artists in the future. "We want to collaborate with great artists in and out of Korea and also with artists whose music direction aligns with ours," told Chloe.
Finally, Cignature expressed the desire to go on tour and meet their fans. "If we get a chance, we also want to perform on stage in front of fans from all over the world", said Seline.
"International and domestic SignFan are sending us lots of love. With this album, we hope to visit anywhere through any opportunity. Just thinking about going on a tour to meet SignFan from around the world makes me happy. I hope to see you soon," Jeewon concluded.
—
—
Words: Isadora Wandermurem
Photo Credit: J9 Entertainment