"Wallahi, you're not serious…"  Percussionist, composer and bandleader Yahael Camara-Onono is affectionately side eyeing his daughters who are laughing and playing peekaboo through the zoom camera. He smiles a weary end of day parents smile, "I cried so much for this one when she was born", he says ruffling the hair of his eldest, who is now trying to mount his head as she would a climbing frame, using his durag as an impromptu hoist. 
The arrival of his children was joyous, but came with undercurrents of grief that move through the track 'Suley's Ablution', on 'When The Dust Settles'. It's the latest release from Balimaya Project, the band Camara-Onono has been leading since 2019. Layered, plaintive keys set the scene for confronting loss, and the exhaustion of carrying unacknowledged pain: "I'm on my own / I'll make it through somehow / it's been so long / I need a helping hand…"
—
—
It's the first time Camara-Onono has sung on a record, and he's singing to and for himself: "it was very emotional for me", he shared. "The verses are simple, but they hold so much weight". Arriving at fatherhood helped him to finally process the death of his son Suleyman, who passed at 11 months  when Camara Onono was just 16. Other than his partner at the time, no one knew what had happened. "I thought I had to do things alone, and I was just carrying it around with me," he reflects. The track features his interpretation of a zinli rhythm, used by mourners to help guide their dead on into the afterlife: "It's a closing of that chapter of my life, I start by myself, I'm aided in the process of healing and I leave that space of healing with the tools to move on".
Becoming a parent also gave him a newfound perspective for tending to another bereavement. His older brother, Abdul Aziz Onyeamaechi, was a peacekeeping soldier with the UN, who was taken hostage and killed when Camara-Onono was aged 11. "He was a lot older than me, so losing him was complex. I felt like I didn't have the right to mourn him, but this track was about me stepping into that grief," he shares. "It's me wondering, if his life hadn't been cut short, where would he be now? Would he be proud of my achievements and the way I've fought to be where I am?" 
—
—
His brother is memorialised on the album's opener, 'For Aziz'. The track is awash with cathartic textures: sweeping horns fly over roiling percussion, a flute sounds out gentle, transfigurative notes. It's a twilight zone of mourning and resolve, where coarse vocals from Afronaut Zu confront mortality: "The planets turn / we pray only goodness will unfurl / but we know there's so much struggle in the world…" That vulnerability takes on an added boldness as he sings an oriki (a traditional Yoruba praise song) to death itself: "He extolls death virtues, and opens the road for the orisha Ogun to appear – it's about us dedicating space to something bigger than ourselves, and connecting to something that's eternal".
Aziz was also an award winning Golden Globes boxer: the track's artwork features him in a victory pose after a match. For Camara-Onono, his brother's memory informs his questions about masculinity and the kind father he wants to be. "I grew up with the shadows of paternal figures: my dad left when I was young; my grandfather, who was present, but travelled frequently. I watched the fathers of other children. My brother has a daughter, she was around my daughter's age when he died," he shares as his youngest daughter tries, unsuccessfully, to launch herself into the TV. "It raised a lot of emotional questions for me," he continues. "I feel like I've been fighting within myself, and this stuff is what came up when I was digging into my experiences."
Balimaya Project offers a forum of sorts to work through his enquiries. The band is in Camara-Onono's words, a healthy space for men – particularly Black men – to be there for each other. "We work at holding each other accountable and being responsible to each other. We practise healthy ways to express what's going on for each of us and rely on each other: We're constantly saying I love you in the group chat! Most importantly it's finding ways to be kind to ourselves."
It's a space of intergenerational exchange, which is useful for younger members to teach older members how to use Monzo, and for the more experienced members to share their industry knowledge. For Camara- Onono, the latter is especially helpful when navigating touring as Black majority band, and dealing with racism on the road and across the sector: "the spirit of this band means that we create that safety for each other wherever we go."
—
—
The foundational component to the band's elemental surge of sound come from layers of percussion played by Camara-Onono, Skanda Sabbagh and Adeegun Crispin Robinson. Talking drums, bata, Sangban, Kenkeni, Atumblan, Callebasse,  drum kit, congas, djembé and balafon.  The resounding horn section features some of UK finest players on the jazz scene, including Xhosa Cole, Nathaniel Cross, Jaz Lee and Elias Jordan Atkinson, whilst keys and kora (Jali Bakary Konteh) make for a synergistic approach to contemporary Mandé music in conversation with jazz, gospel, soul and UK bass culture influences. 
Throughout our conversation, Camara-Onono pauses to speak to his daughters in a variety of languages – he jokes with them in Arabic, tells them off in multiple Mandé tongues for spilling milk on the couch and encourages them to finish dinner in Yoruba. His youngest, understanding all three, is more enthusiastic about trying out an Essex accent, and yells "ALLO!" periodically across Zoom. 
Mutli-lingual points of connection run through the record too. 'Anka Tulon' opens with diasporic chatter the bustle of greetings in several languages, over the creeping warmth of kora riffs, before erupting into a joyful noise: "musically, it's based on gouroussi from Burkina Faso and wassoulou music – they are both social rhythms that I wanted to tap into," he shares. "Hand clapping games at home in people's compounds are a big part of bonding back home. We're such a boisterous band, so I wanted to capture that feeling – despite where we all come from, we find common ground through our culture. It's an ode to those safe community spaces: barbershops, hair salons, barbecues, even playing dominoes and card games." 
The album harnesses the technologies of folklore, prayer and rituals to process history, grief, and rage. Continuing with themes from their last album, which chartered heroic tales of the Malian Empire, this album deploys mythology as a tool to fashion new realities: "Regardless of what our bodies have been through, the spirit will always endure. Our voices have the ability to change matter, to shape things in the world as we see fit," Camara-Onono shares. 
'Be Mankan' is on a song to honour Alfa Yaya, a Fulani warrior king famed for his leadership. Camaro Onono uses this story to pay homage to his mother, who he says went above and beyond to keep him on the right path: "I grew up in Harlesden, it was vibrant, but there was guns and crime: Harlesden was that girl and lots of my friends lost their way".
—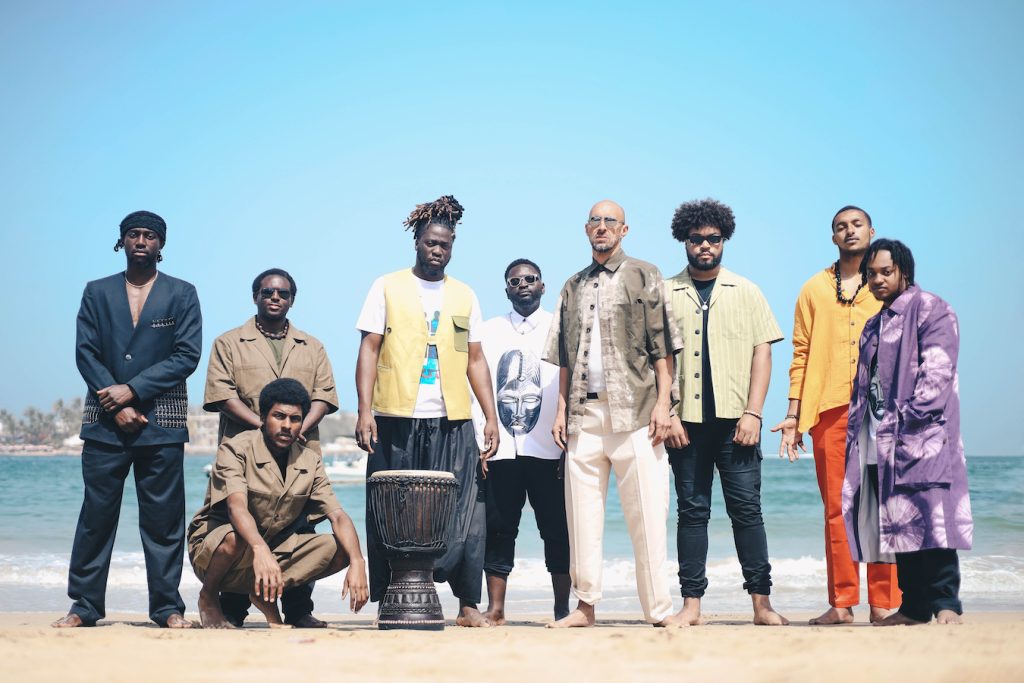 —
Recasting everyday Black life and his own familial experiences through folkloric music becomes a means to tend to communal stories with dignity. Folklore – albeit recast through a contemporary lens – brings a curative touch to the experiences of disconnect and alienation Camara-Onono's compositions draw from. On a personal level, it's a poetic way to attend to your own history, grounding it in a broader lineage. Musically, it's a way to fashion a Pan-Africanist commons: Ifa, Islam and Christianity are as much in dialogue as Afro-Cuban and North African sensibilities: all from the vantage point of London. It's a space where the rich traditions of Mandé music are placed in dialogue with myriad cultures, with an interest not only in the political conditions of people from those different communities, but also a concern with how those cultures are represented, preserved and enabled to continue developing. 
We pause as one of his daughters crawls into his lap, to petition him for ice cream. It doesn't work so she settles for poking him in the eyes instead. When he recovers, he shares: "Music is visual to me, and this track brought images of wind: in the sails of slave ships, and the cold winds people felt when they first came off the Windrush ship". Camara Onono notes the differences in these instances, whilst acknowledging the colonial contexts that create a continuum of sorts between different arrivals to Britain: alongside the story of the Windrush, there are long histories of African migration to the UK. Running parallel to these histories has been anti-immigrant sentiment whipped up by successive governments. From 'hostile environment' policies and deportations (including the crude, so far failed attempts to send asylum seekers to Rwanda), to crusading against the arrival of migrants who risk their lives travelling on perilous small boats across the Mediterranean and English Channel. This past summer alone dozens have died at sea. The album tunes into the lives of people navigating these political shifts, and historic contexts that haunt tracks like 'Prayer For Our Parents'. "What so many of them have gone through as immigrants is indescribable: they are always praying for us, but who prays for them and the dreams they left behind?" he asks. 
"I think about the Windrush generation – so many of them built this country up, only to be deported and some of those people died. We've always been told we don't belong, or we get asked where we're really from". The hardships that people who leave their homes in search of a better life elsewhere  are accounted for in the cathartic wash of 'There's Nothing Left For Us Here'. The track sees Camara Onono recreate rhythmic cycles from folkloric dance formations performed before going into battle, and features the vocals of veteran singer and percussionist Fassara Sacko, an artist Camara-Onono grew up listening to. "On the track, he sings to travellers and adventurers, reminding them that there is dignity in the perseverance of life, whilst remembering there is somewhere we can call home," he shares. 
—
—
A pivotal moment in the group's journey was winning the Songlines Best Newcomer award. "We're not following the typical path of world music or jazz, so it meant a lot to be recognised as (mainly) young Black men from from Harlesden, Wood Green, Leytonstone – to know that we've made music that is over complexity that can be voted against the legends in the game."
A big part of the band's ethos is pushing back on the lazy narratives that can court West African music, alongside the stifling effect that the 'world music' label can have on the expectation of audiences and the music artists can make to cater to the world music market. Instead, Camara-Onono respects these musics as living traditions and places an emphasis on specificity: "It's about saying this is the djembé and this is how it's played. When I talk about folklore, it's not some dead culture, we're still alive and evolving".
The world music label has long been problematised, so there's no need to rehash those debates here. A more productive focus is on what Black artists want to craft in dialogue with their heritage, on their own terms. "It's all good to shout on a Facebook status, but it takes another thing to create the change I want to see," he said, reflecting back on his motivations to start the Balimaya Project. Through residencies and workshops, as an educator, Camara-Onono pushes through outdated misinformation and misrepresentations of African music in music education. 
"Mandé Music is very dignified," he continues. "It's one of the most complex music forms in the world and one of the largest repositories of music as an umbrella. From just one region you have Salif Keita doing one thing, and Oumou Sangare doing another. There are so many influences – Arabic, music from the desert, even music that stretches all the way into the Orient."
Other influences from the region on the band include Congolese rumba, soukous and Cuban music popularised by radio broadcasts and socialist alliances between Fidel and nations like Mali. Camara Onono cites seminal 'golden age' afro-pop groups like Guinea's Bembeya Jazz National, Mali's Rail Band De Bamako and Senegal's Super Etoile de Dakar as inspirations, particularly for their intricate guitar styles. Each band was important in crafting a language through sound to express post independence self expression and 'authenticité'. Balimaya takes up some of this cultural work from a 21st century perspective, by claiming West African heritage through contemporary Black British lexicons. The make up of the band also challenges perceptions about who gets to make this music. "There's this stereotype that we must come from an obscure part of the continent to even want to appreciate our culture. We applied for a fund recently and the feedback we got was surprise that most of us have British passports". 
Camara-Onono's own initiation into Senegambian folklore was split across the UK, Senegal, Nigeria and Gambia. It was his grandfather who gave him his first drum. His family would take part in a range of cultural events and ceremonies in the UK, including the annual Gambian Cultural Weekend where he'd meet and hear touring artists such as Ali Farka Toure, Sona Jobarteh, Jally Kebba Susso and  Kadialy Kouyate. As a teenager, he studied under the master drummer Dembele Sidiki, to formally train as a griot. "I went through the rigorous formation that would have happened back on the continent: moving into your drum masters house. You become a son to them: do the chores, carry the drums, tune them, and sit in on sessions – it really honed my knowledge". 
—
—
For over a decade Camara Onono has been on a mission to reinvigorate a respectful practice of engaging with West African music, building on the legacy of the artists Femi Tomowo and Kevin Haynes. On the London jazz scene, he could be found at jams and gigs, djembé ready to bring his signature percussive ferocity to a number of outfits including Maisha and Family Atlantica: "djembé isn't an easy drum to play, but its complexity gave me the building blocks to play it in jazz, which I didn't play until I was an adult," he explains. Golo Kan translates as 'the skin speech' in Maninka. Centred on the djembé – which Camara-Onono describes as a unifying instrument – it's a thunderous series of textured strikes, space as Camara Onono puts it, to let the drums do the talking. Much like the Balimaya Project as a whole is an ode to both honouring tradition and working to harvest new fruit. 
'Red Oil/Beyond Kingdom Come' creates an interlude on the album. Progressive vocalist Obonjoyar embodied a masquerade spirit: jittered utterances and reeling breaths sound through layers effects, free play and what sounds like a primal scream: 'rebel voices daughters and sons born from rubble and dust, our voices will echo beyond kingdom come.  Everything becomes clearer, when the dust settles', he sings. "Regardless of what Black people have been put through, as a diaspora, on the continent: our spirits will always endure". Likewise, 'When The Dust Settles' is a grounded reflection on Camara-Onono's journey to date, whilst the album's closer 'Seasons Of Baraka' gazes ahead to the future imbued with blessings. 
It's bedtime, and Camara Onono's durag is looking a little more precarious than it did at thes start of the interview, but he's content. His daughters are still playing peekaboo and he's proud of where the band is heading, 'everything just feels right', 
Balimaya's afro-surrealist, big band, Mandé jazz is strident with hopeful militancy, sophisticated in their arrangements, scholarly in their attentive respectful approach to composition. The record isn't escapist,  it's grounded in salt of the earth lived experience across generations and geographies; driven by an imaginative sensibility that blurs between imagination and reality, between material realms, between conscious and unconscious, pulling through from despair to triumphant resolve.
—
—
Balimaya Project play the Barbican, London on October 17th – grab your ticket online.
Words: Teju Adeleye
Photography: Adeolu Osibodu, Ian Hippolyte
—